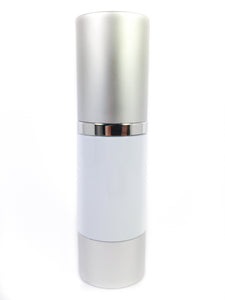 We have found that the anti-age treasure within our rainbow-esque Crystal Serum is one of the most sought after formulas that laboratories from around the world have tried to copy, but none have been successful.
The ingredient list is small, but the reason for its success is due to the proprietary mixing technique which magnificently combines actual Liquid Crystals with Spin Trap (PBN), the ultimate "intelligent" antioxidant.
The PBN protects skin from Reactive Oxygen Species (ROS) found in pollution (the higher the pollution, the more ROS on the skin) and corrects the damage caused to healthy skin from imbalanced molecules.
Inturn, the Liquid Crystals (our body is made up of Liquid Crystals) transforms into an emollient protective barrier on the skin… protecting skin from the environment's aging factors.

What does this mean to your skin? Well, not only is the Crystal Serum physically protecting skin from the harmful, accelerated aging effects of the environment, it also works to change what has already been damaged.
Crystal Serum is a cosmeceutical breakthrough with a treasure that gives everyone who uses it a beautiful… Happily Ever After!
Directions: 
Apply to clean face. Pat under eyes, above lips and neck for lines and wrinkles. Pat in until it absorbs. Pat your favorite moisturizer on top of your Spin Trap Crystal Serum.
Active Interests: 
Phenyl t-Butylnitrone (Spin Trap)—A highly active oxygen/nitrogen complex, considered an "intelligent" antioxidant, instead of destroying free radicals, it traps them, transforms them into useful oxygen and then transports them back into the respiratory cycle. 
Orysa Sativa (Rice) Bran Oil – Different from other vegetable oils due to its high levels of tocotrienols and Gamma-oryzanol antioxidants. 
Zea Mays (Corn) Silk Extract – Provides a refined, emollient texture to effective dispense actives to skin.